Today is the six month anniversary of my
30 Before 30
release. (It's also my half-birthday, but I think it's weird when people celebrate those... Sorry, I'm just saying.)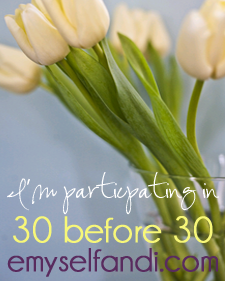 Anyways, I think it's high time we check-in and see what kind-of progress we're making on living our lives to the full...
1. Write a book (Even if I NEVER publish it.)
2. Become a mom
3. Run a half-marathon
- (I'm planning to do this in March; but, so far, no progress!)
4. Perform in a play
5. Plant a garden
6. Learn to sew and make something I can wear
- (I now have a sewing machine... does that count?)
7. Cook an entire Thanksgiving meal by myself
8. Go to another continent (besides Europe)
9.
Drive across the United States
- Completed July 2010! (Click here for details.)
10. Paint a painting I'm proud of
11. Learn basic photography and PhotoShop
12. Take a class just for fun
13. Read the Bible cover-to-cover
14. Visit all 11 of my college girlfriends at their homes
- Since March, I've been to FIVE
15. Present at a national teaching conference
- Scheduled to present at NCTE in Orlando 11/18/10
16. Read the top ten novels of all time (Modern Library Association List)
17. Take a "girls only" vacation w/ my mom and sister
18. Get something published (poem, article, etc.)
19. Go on an overnight hiking trip
20. Go to Disney World (I've never been)
- I'm going!!! (See #15)
21. Refinish a piece of furniture
22. Mentor a younger girl
23. Get a make-over and buy the make-up
24. Take HIP-HOP dance lessons and show them off at a club
- Does Zumba count? Jeff says no.
25. Decorate someone else's house
26. Finish my scrapbook from London (started in 2004)
27. Grow my hair out past my shoulders
- In process... Right now, I'm at the "growing 'up'" stage (i.e. 1950s house wife flip)
28. Wear a bikini and not be self-conscious
- yea right!
29. Learn yoga
30. Learn a song on the guitar
Clearly, I have a long ways to go... At least no one will feel self-conscious about their own progress. I've set the bar pretty low!
So... What have you checked off? Post a check-in/update on
your
blog & then add your link below along with my 30 Before 30 button (above).
Now on to the fun part:
As an added incentive, I've paired up with
Stella Jewelry Store
to offer you a special opportunity to win your very own hand-made necklace
inspired by the stars
.
Every piece is designed and hand-crafted by Roxy and Tricia. Each and every piece is unique, unless specially commissioned, i.e. Bridesmaid gifts, Cheerleader or Sorority signature jewelry.


As our tag line states we design "jewelry inspired by the stars". By 'Stars' we are not limiting our inspiration to that of celebrities but also to the stars in our life. It simply could be someone's idol such as Coco Chanel, or the Star Soccer player (we have many school spirit pieces) or the star in your family who has overcome breast cancer. We have even found inspiration from places we have traveled, New York City is always inspirational, and we got some great ideas from the beauty of Colorado.
Lucky you, Stella is giving away TWO (that's right, TWO) necklaces!
(Winner chooses style.)
The first is only for people who link-up above with a 30 Before 30 update.
(Folks, if you've seen any of my recent link-ups, you know the odds are GOOD here. Haha!) Even if you didn't post your list the first time, you can still join in by linking up with your list AND update today.
That's all you have to do!!! Easy as copy & paste!
The other necklace is up for grabs for everyone else! (Feel free to participate in both.)
To enter:
Simply visit their website
here
and leave a comment
on this post
, telling me what item you like best! (Required)
In addition, you can earn a
second chance
to win by "liking" their facebook page
here
. *Please leave a separate comment below letting me know if you do this!!
Lots of great opportunities to win... This giveaway will be open until Thursday 9/29, and I'll announce the winner on Friday. Don't miss it!!!
*Giveaway open to US residents only!