Happy hump day friends!
Before I jump in, I just want to say... Midweek Confessions has fast become one of the most theraupetic and good for the soul - in a "thank goodness I'm not the only one" kind of way - things I do each week. I look forward to Wednesdays. More than airing my own dirty laundry (quite literally really), I look forward to "meeting" each of you, finding your great blogs, and being reminded that no one really has it all together all the time (although, I'll admit, some people are lot closer than me). THANKS for coming back each week and linking up your blogs... It really does make a girl smile!
Ok, shush.
- My Christmas tree is still up. (And, I have no intention of taking it down until at least next weekend.)
- I wore leggings (as in - in leiu of pants) to work yesterday. In my defense, they have seams down them (which somehow makes it better in my mind), and I wore a long sweater; but still...
- I walked in to the teacher's lounge just as two colleagues were discussing how "gross" it is that kids wear leggings as pants these days. I'm not sure who felt more awkward.
- I haven't started Sam on solid foods yet for the sole reason that I am lazy. I'm panicking about the planning and extra effort these extra meals are going to require on my part. Is that awful or what?

- Occassionally, I get real motivated and strip my bed for clean sheets. THEN, I get real unmotivated, and before I know it, it is 10PM and I'm ready to go to bed but there are no sheets on it. So... I throw a comforter down and two blankets for us to cover-up with. I like to pass it off as "fun" (like camping) but I don't think Jeff is falling for it anymore.

- Sometimes when Sam spits up on me, I don't change clothes right away. I've gotten way too good at just "blending it in."
- Today is January 4th and I've yet to follow-through with ANY of my resolutions for the new year.
That's all for today...
What are you confessing?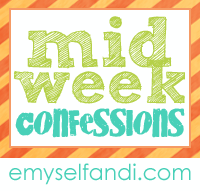 Grab and link, please... I'll be so happy!