Another Wednesday is upon us friends, and you know what that means...
Here goes nothin':
- Monday night Jeff and I met at the grocery store (Sam accompanied us) to do some shopping for a dinner we are having tonight at our house. On the way home, we stopped at our favorite "burger joint" for dinner. I was almost giddy with excitement for this "night out." It felt SO fun. Sad what my life has come to.
- I am reading
Catching Fire
(the second
Hunger Games
book) aloud to Sam. I plan on reading the new Jodi Piccoult book and
Bloom
to him next. Is that bad?
- Sometimes I pretend like Sam is still eating/fussing/etc. so I can read rock him a little longer and let Jeff clean up the kitchen.
- Today I am wearing my new red skinny pants I got for my birthday (woohoo). I am also wearing an oversized MATERNITY sweater, because the skinnies are a little snug on the butties. I am basically a walking oxymoron.
- Speaking of being snug, genius here paid for three months of Weight Watchers back in January - wishful thinking. I "tracked" for all of one day during those three months. Then, like an idiot, I forgot to "unsubscribe" and they automatically charged me for April too. You'd think I would find this motivating - what with flushing money down the drain and all - but, so far, no such luck. Maybe next month. ;)
Ok enough about me. Won't you join in on the fun?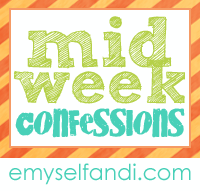 And P.S. I'm sure I'll be doing plenty of confession-worthy things, but I'm going to take a break from Midweek Confessions next week, as I'll be on a little road trip for my spring break. Make this one good folks, it's got to last you two weeks!
Happy Hump Day before SPRING BREAK!