I am a working mom (and I love it); but, if I'm being honest, I feel like most days I'm more "surviving" and less "making it work." So... I enlisted the help of some dear blog friends to share their experiences, advice, lessons, and encouragement on all kinds of topics related to life balancing a job outside the home and a family. I think this goes without saying, but please know that this series is - in no way - meant to belittle or undermine the work of stay-at-home moms - you are doing an incredibly important JOB, and I have so much respect for you! That said, I do
feel like working moms are sometimes under-represented in the internet world... So, my hope is that this will be a place for working moms of the blogosphere to unite and feel understood, connected, strengthened, and supported (plus, maybe pick up a tip or two)!
Overall, I hope this will be a reminder that (regardless of your situation), you are NOT alone, and you are doing a darn good job!
Please introduce yourself and
"join the conversation" in the comments.
(More from me on being a working mom and all the posts in this series here.)
Today, my blog friend and fellow English nerd
Megan
is stopping in to share some BIG news with us!! ;) Megan is a fabulously passionate teacher - and very generous with her creativity - and she will make a GREAT mama! Today, she's sharing some things she has recently learned about
surviving the first trimester of pregnancy at work
:
It's time for the big reveal-- I'm expecting!
My due date is June 13, so we couldn't have asked for better timing in terms of my work schedule. In a perfect world, I'll be able to finish out the year (barring massive numbers of snow days and/or early delivery), have a beautiful bouncing baby and a summer to enjoy him/her, and start the year as usual for 2014-2015.
When I heard about Elizabeth's series for working moms, I knew I had to put something together for her... While I am a stepmom to a teenage boy, this is my first biological child. So technically, I am not yet a working mom. I am, however, just about to finish up first-trimester pregnancy. And let me tell you, it ain't easy. Teaching is hard. Pregnancy is hard. Both are beautiful, too, but sometimes-- it's just hard. Based on my very short experience and humble opinion, here are some ways I'm managing to make it through and still (kinda) keep it together at school.
1. Lean on your colleagues.
If you've read this blog for a while, you know how I feel about having a crew of amazing teacher-friends. I couldn't function without mine. So, choose a few of your closest teacher-friends, and let them in on your oh-so-exciting secret. (Mine screamed, and have taken to calling me "Baby Mama!") When one of them offers to cover for you during the misery of morning sickness, let them. When one brings you chicken soup, thank them graciously. More than ever before, lean on your colleagues for collaborative teaching ideas. You're exhausted and sick; why reinvent the wheel?
2. Eat frequently.
For me at least, the best way to quelch morning all-day sickness is to stay full. I learned quickly that eating a handful of pretzels or hard candies every hour or so kept my stomach relatively calm. I'm not usually one to chow down in front of my students, but I just made sure I had plenty to share. My kids can't wait for me to crack open a bag of pretzels now!
3. Rest.
Lord, they are not kidding when they say early pregnancy exhausts the body. One of my colleagues informed me that my body was outputting as much energy during the first trimester as a non-pregnant person mountain climbing. Wow. By mid-afternoon, I feel like a zombie most days. What helps? Sleep. I take a nap 3-4 days a week after school; I sleep 8-10 hours at night every night; I nap multiple times a day on weekends. My brain can't function when it's exhausted. The grading can wait.
4. Offer whole-class bathroom breaks.
Another thing they're not kidding about? Running to the restroom constantly. Strange that a blueberry-sized baby can do that, but oh, it can. My school implemented a new hybrid block schedule this year, and some of our classes are 90 minutes. Umm, no. I cannot go that long without a bathroom break. So I used the opportunity to earn the adoration of my students, and established whole-class breaks in the middle of those long blocks. Everyone gets to use the restroom, stretch their legs, and get a drink. Benefits? I am part of that "everyone." As a side benefit, the kids never ask to go to the restroom, and they are eternally grateful.
5. Cut yourself some slack.
I don't know about you, but I can be awfully hard on myself professionally. If I didn't create a resource myself, I feel like my students are being cheated. I try my best to make my own handouts, study guides, tests, etc. "Book tests" and "worksheets" are like dirty words in my head. But sometimes, ya gotta do what ya gotta do. Getting rested is way more important than hand-designing my own study guide, especially when there's an awesome one for $2 at TeachersPayTeachers, or an okay one that comes with the textbook. And when you're puking up your toenails, it's okay to hand your kids a grammar worksheet and ask them to do it quietly while you sit at your desk and breathe. I promise.
6. Accept help when others offer.
My school is fortunate in that we have a community college nearby that gives all our county students a free two-year college education provided they meet a few basic requirements. One of those requirements is community service hours, so we have a lot of recent graduates who come to us looking for easy community service. When they show up, I'm always ready. Got a stack of quizzes to be graded? Done. Copies that need made? Done again. Since the pregnancy symptoms kicked in, I have made it a habit to not turn down offers of assistance. I also have a sweet teenage niece who loves to grade. Who am I to stand in the way of her fun?
7. Use the kids!
That 20lb weight limit is tough, considering my teacher bag routinely weighs somewhere closer to 50. My students (before I announced this pregnancy to them) thought I had suddenly become the laziest person on earth, but who cares? Several times a week, I ask my students to carry books to and from my car. When I get home, I rely on my husband from there. I have a room full of energetic young people; why not make use of them?
8. Sit down.
I am not typically a teacher who spends a lot of class time sitting at my desk. I'm a pacer. But during this time of exhaustion and sickness, sometimes I don't mind to pull up a chair. I know as this pregnancy and my body grow, I'll occasionally need to put my feet up. No worries! I am learning how to teach from a seat. If I feel like I still need a vertical advantage over my kids, I perch on the edge of my desk with my feet in a chair.
I am certainly not anywhere near the first teacher to deal with early pregnancy symptoms in the classroom, and I can't begin to call myself an expert... These are just some things that worked for me-- does anyone have any other tips I might have missed?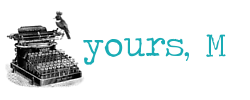 THANK YOU MEGAN, AND CONGRATULATIONS! I remember the early weeks of pregnancy in the classroom oh so well - I kept a trashcan in my closet for the occasional urge to puke and ate ALL the time. I also remember that some former students showed up at my house to Christmas Carol at like 2 in the afternoon one day over Christmas break and I had - clearly - not been out of the bed yet that day. It was at that point that I knew my secret was out of the bag! Haha. These are great tips and many of them will serve you well as you make the transition to a full blown working mama next school year (especially #4). Good luck girl, you will do great!
Follow along with Megan's pregnancy and be inspired by her awesome ideas and enthusiasm for teaching at her blog M*Print.
P.S. If you liked this, come back tomorrow as Molly shares some advice on preparing for and returning from maternity leave!)