Friends, this girl doesn't give up easily... I'm back for round two of my new blog hop - Mid-Week Laughs!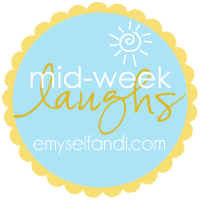 Are you tired and grouchy by Wednesday afternoon? Does the weekend seem ALL too far away? Could you use a GOOD LAUGH? That's what "Mid-Week Laughs" is all about... Take a minute, sit back, and enjoy a good, hearty, brings-tears-to-your-eyes, belly laugh. It's good for the soul!
This week's topic is:
__________________ makes me laugh about

MY PET!
To play along, simply write your own blog post filling in the blank... The funnier, the better - don't hold back! Then, just grab my button on the right AND add your link below. Ready... Set... Go!
Referring to her by her full name makes me laugh about MY PET!
Have you ever noticed that most pets simply go by ONE name? Fluffy? Oreo? What would the world be like if our parents simply gave us one name based on our outward appearance. I can imagine now a class full of 'Freckles' and 'Chubbys.'
Anyways, my girl has a full name:
And, let's all just be honest, if it was more socially acceptable I'd have her full initials monogrammed on everything she owns!
If that doesn't look like an Adelle, I don't know what does.
(And, that may or may not be her coffee!)

I LOVE calling animals by their full name - especially, when the name is human-like. (Bonus points for senior-citizen names.)
Example:
Addy's boyfriend is named Nacho Schubert.
Addy's arch enemy next door is named Harley Cross.
My family cat growing up was named Muffy Mulvaney - porn star?!?
When Addy entered the
photo contest
a while back, she was the ONLY animal listed with both a first and last name. Call me crazy, but I think that's why she won.
And... because I made this up, I write the rules, and I might be the only one participating...
#2. Car trips make me laugh about MY PET!
THIS is how Addy rides. Every time. We start out with her in the back like a good dog, and slowly, she makes her way to my lap. It is awkward and uncomfortable, but I think it's hilarious. You should SEE the look on people's faces in the cars next to us. (Jeff is mortified, but I know they are jealous.) Besides, I admire Addy's confidence in her 75 pound curvaceous bod. The laughs are TOTALLY worth the dog hair and bruises I, undoubtedly, acquire.