As you probably know, I went back to work yesterday after an incredible summer. I honestly felt refreshed and ready to put a little routine back in my life --- But, that's not to say I haven't learned some good lessons in adventure, availability, and creativity from my summer.
Anyways, the first week is a teacher work week. And, without fail, every year I am more and more convinced that high school teachers, are just like the teenagers we teach.
Yesterday, our morning started with a lovely breakfast hosted by the PTA. I spent most of Sunday evening planning out what I could wear to somehow make me look like I've lost weight and gotten a tan in the last two months - neither of which actually happened. I finally decided on a red skirt and black top, which happen to be our school colors - totally UNcool, and ONE person (out of about 65) said I "looked good," so I guess I can call that a success. :) The cafeteria was buzzing as people whispered and gossiped about who is pregnant, who switched classrooms, and what students moved. I loved it!
The rest of the day was spent organizing and decorating my classroom --- a little slice of heaven for me. Teachers kept popping in the door to ask about my trip across country, and whine about the new computer system. By 3:30, my feet literally hurt... I am totally NOT used to working this hard! (Hence the reason my laundry room is still incomplete!)
Today, we had our annual back to school "Faculty Meeting." In most cases, this means: We are given very specific directions about very small tasks, teachers complain about everything and make a MUCH bigger deal out of things than they should, and I get excited about really dorky things.
Case(s) in Point:

When describing how to fill out a form titled "Number of Students," we were instructed: "In this blank, you write in a NUMBER for how many students are in your class." Really? I am expected to TEACH English, but not to READ?

Then, people started huffing and puffing about excused vs. unexcused absences and there was more than one "stand-up and yell at everyone" moment from the crowd.

And, finally, I couldn't control myself and actually FIST PUMPED when the tech-guy announced that we could now upload our lesson plans directly to the website. Really? What would my high school self have thought of my enthusiasm over something so lame?
All in all, things are rolling. I think I have a good school year ahead of me.
(Stay tuned next week for my "Back to School Special" with features all week on classroom decorating, the first day, etc. etc.)

Reminder
: I'm giving
Midweek Laughs
a second go-around tomorrow!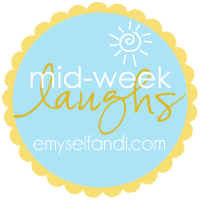 This week's topic is:
__________________ makes me laugh about

MY PET!!
(You knew this topic was bound to come up soon!)
To play along, simply write your own blog post filling in the blank... The funnier, the better - don't hold back! Then, just come back tomorrow to post your link!! Come on, couldn't we all use a good laugh?