Are you tired and grouchy by Wednesday afternoon? Does the weekend seem ALL too far away? Could you use a GOOD LAUGH? That's what "Mid-Week Laughs" is all about... Take a minute, sit back, and enjoy a good, hearty, brings-tears-to-your-eyes, belly laugh. It's good for the soul!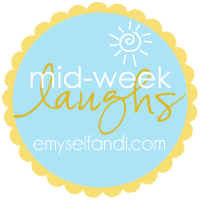 This week's topic is:
__________________ makes me laugh, when I think about

MY HIGH SCHOOL SELF

!
To play along, simply write your own blog post filling in the blank... The funnier, the better - don't hold back! Then, just grab my button on the right AND add your link below. Ready... Set... Go!
I've been stewing over this all morning... Maybe the fact that I TEACH in my 7th period Spanish classroom makes me not far enough removed from this topic... I asked Jeff what was funny about me in high school and he promptly said: "EVERYTHING." There are disadvantages to marrying someone you grew up with. I'm sure he or my sister could write this MUCH better than I can... But I'll give it a go.
My teacher's pet tendency makes me laugh, when I think about MY HIGH SCHOOL SELF!
Three years ago, when I first started teaching at my alma mater, I had to attend a new teacher orientation before the work-week started. I was nervous about it, but thankful to have two of my good friends who had also gone to school here starting their career with me. Things were going ok... There was a new principal, mostly all new staff, and it had been six years since I'd been back; so I felt grown up and different. THEN, the librarian came in to speak to the group. He is very monotone, and very serious about the cleanliness of the library, the organization of his shelves, and returning books on time. But, literally in the MIDDLE of his speech, he spotted me and stopped everything to say: "Oh... Uh... Hi Elizabeth."
Words can't really do this justice... But I was mortified!! It was if he had stamped me on my first day of school with a sticker for all my colleagues to read that said "Warning: Suck Up Alert."
I will probably never live this down among my friends; but, let's be honest, no one that knew me in high school would be surprised to hear this. I WAS a teacher's pet. I was the kid who shot her hand up in the air like a gun when the teacher asked for a volunteer, as if the most exciting thing in the world was running a note downstairs to the attendance office. I was the kid who actually dressed up like one of my teachers (the newspaper sponsor) on "Career Day." (Granted, this really did turn out to be true; but, seriously, why didn't someone tell me how completely dorky that was.) I was the kid who saw my teachers out in public and couldn't resist the urge to run up and discuss the summer reading. Or, the who who always got asked "be in charge" when the teacher stepped out of the room... That's really a friendly way of saying, "You are the most likely to rat out your classmates if anything goes wrong" - most definitely NOT a compliment.
I was the kid who went WAY above and beyond on the project in hopes that the teacher would ask to keep mine "as an example." And, I was the kid who took photographs from sidelines at football games instead of sitting in the stands with my friends, who ate lunch in the newspaper room, and ran for student body offices so that I could speak into the microphone at class assemblies. Oh, I was SO that kid.
Thankfully, I can laugh about it now. I can laugh when my students roll their eyes at the kid who ALWAYS raises her hand and asks to read aloud, because I know that was me... Oh well, that's life! You live, you learn!
Now --- your turn!!! What makes you laugh when you think about yourself in high school?!?