Friends, I have a confession to make... I am OBSESSED with Mommy Blogs. You know the type - the moms that have adorable children (with incredibly original, yet somehow, classic names), handsome rich husbands, beautiful homes where everything is hand-made and Anthropologie-esque, and they look perfect all the time - even just to go to the grocery store and do crafts around the house.
I admit, sometimes, I want to be one of those "perfect" mommy bloggers - although, my actual messy house and lack of craft-doing usually brings me back to reality...
Anyways, this morning, I found a hilarious blog that parodies this blog culture:
Seriously, so blessed
! It's funny... Really funny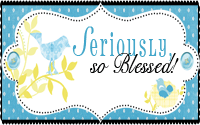 Today, the post is her
24 week pregnancy belly pic
- and,
you know
- I couldn't resist going to peek... PLEASE go
here
and see it. Made-my-day.
Happy Sunday!