It's that time of year again... The teachers are out in full force on Pinterest (myself included)! I love it! So, in the spirit of Back-to-School, today I'm introducing the newest E, Myself, and I series...
That's right friends, every Tuesday (or at least, most Tuesdays), I'll be "talking shop" with my teacher friends and - hopefully - sharing some creative ideas and inspiration for the high school classroom. (I feel like there is a real need for more high school resources out there; but, of course, many of these ideas etc. can be adapted for any grade level.)
If you aren't a teacher, you won't hurt my feelings if you skip Tuesdays - but just know we'll be back to our regularly scheduled programming come Wednesday (i.e. Midweek Confessions). Everybody got it? Ok, good. :)
To get us started, I felt obligated to do a little "Yellow Sheet"/ Missing Work Log update for y'all since that is still (by far) the topic I get the most blog traffic and emails about. Some of you might have already read about this tenmilliontimes, so feel free to jump down to the new (and much easier to access) printable below. Otherwise, here's a quick & dirty description...
On the day an assignment is due, the rule in my classroom is that EVERYONE turns SOMETHING in. If a student does not have his/her assignment, he/she must fill out one of these Missing Work Logs (which I affectionately call "The Yellow Sheet" because they are printed out bright yellow paper) and turn it in in place of said assignment. These are kept in a stack at the front of my classroom, and my students know to grab one if they are missing an assignment on a due date.
The log itself asks for basic information like the assignment title, due date, and student signature. Once it has been filled out and turned in, I keep the Missing Work log in my stack of collected papers for the assignment.
Then, the next day/week/month when the late assignment is turned in, I record the date it was turned in, the number of points deducted (based on school policy - ours is 10% per day late), and the final score. **This version of the log also includes a spot to record contact with the student and parent about missing work too. I obviously do not make personal contact for every missing assignment; but, it is nice to have a spot to record that information right there when I do.
The bottom portion of the sheet is detached when an assignment is turned in and stapled to the assignment, so the student (and parent) knows exactly why they got the score they did on an assignment. The top portion gets filed and saved in my record.
If the assignment never comes in, a zero is recorded in the grade book and the yellow sheet gets filed. These work GREAT on parent teacher conference day and help to keep me fair.
Now, here's a simple JPG image you can download and print to start using right away: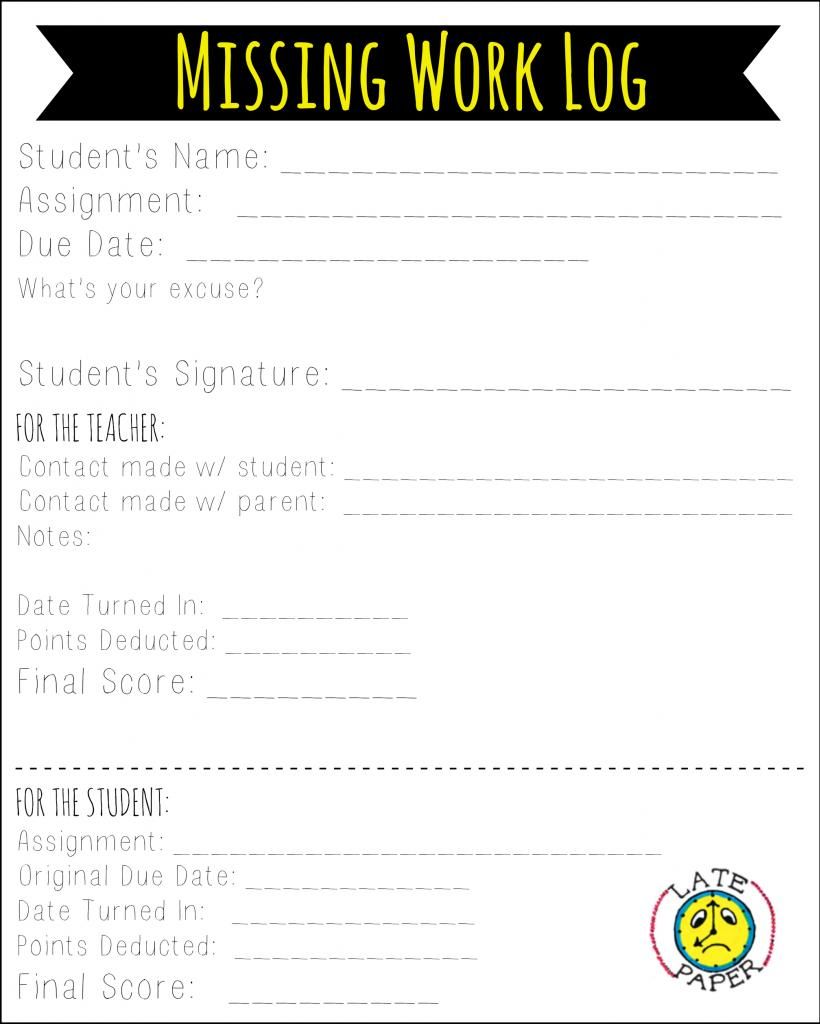 When you click on the image above it should open in full size so you can save it to your computer. Then, you can just print out (it should be formatted to fill a standard sheet of printer paper) as many copies as you need. (Again, I usually print mine on bright yellow paper so that they stand out among ALL the papers I usually have.)
Rather have it as a PDF? Try clicking here.
Easy, right?!? (I went ahead and updated all the links on the blog to reflect this new version and easier format, FYI.)
One last thing... I didn't include a watermark or copyright on the image itself (because, really, your students don't need to read my blog); BUT, if you PIN the image below and link back to my blog, I would REALLY appreciate it.
*And a big thanks to
The Fairy Blogmother
for my cute new "pin-it" button and graphics!!!
Ok, I think that's enough teaching excitement for one day. I hope this was helpful and you will tune in each week. In the meantime, please share in the comments some topics that you would like to see covered as part of Teaching Tuesday! Thanks!